Thank you for joining!
Access your
Pro+

Content below.

September 2018, Vol. 6, No.4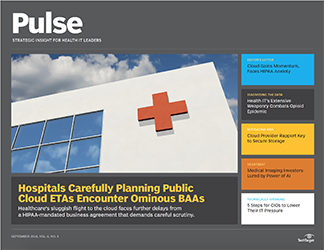 The cloud hovers over just about everything these days, including hospitals and health systems. Healthcare CIOs fully understand that migration is inevitable, but security of sensitive patient records and maintaining compliance with federal health and privacy regulations can create huge stumbling blocks. That also partly explains why the flight path to the cloud in healthcare has lagged behind many other industries.
In September's Pulse, our editor's letter explores the pain of healthcare organizations and their IT decision-makers who have to balance the need to modernize with the concerns for patient privacy. Along those lines, our cover story examines the brave new world of the cloud in healthcare and focuses on one CIO who maneuvered through the legal gauntlet of HIPAA-mandated vendor-provider business associate agreements. In another feature, learn how establishing healthy working relationships with vendors can help hospitals get past the anxiety of securely storing documents in a cloud architecture.
Also in this issue, exhaustive research reveals acquisitions taking place in healthcare and finds that artificial intelligence applied to medical imaging is attracting a significant amount of investment dollars. In addition, CIOs can lower the pressure to implement cloud in healthcare programs in their hospitals by following five diagnostic and testing steps that can lead to innovative software applications and successful deployments. And in another feature, we look at the widespread opioid epidemic and the role health IT can play in battling the crisis using weapons like analytics and integrating electronic health records with prescription databases.


Source link https://searchhealthit.techtarget.com/ezine/Pulse/Cloud-in-healthcare-rises-above-privacy-compliance-pressures