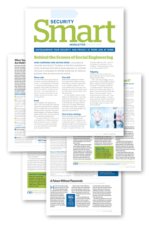 From the editors of CSO, Security Smart is a quarterly newsletter ready for distribution in your organization.
We stand by the belief that the best way to build security awareness is to make security personal, relevant and engaging. To this end, in each issue you'll find a combination of personal device and home safety tips and organizational security advice and best practices.
In the Winter 2018 issue
Could You Spot These 4 Crafty Cons? – Test your knowledge — would you fall for these four schemes?
Behind the Headlines: What You Need to Know about Spectre and Meltdown – They may sound like cartoon characters, but Spectre and Meltdown, names that have been in the news since the beginning of the year, are anything but fun.
3 Ways to Protect the Trusty Office Printer – The humble printer poses a threat precisely because it is so innocuous and seemingly harmless. Make no mistake — unprotected printers and multifunction devices (such as printer/fax/scanners) are security holes waiting to be exploited.
Top 20 Passwords of 2017 – The top two, "123456" and "password" (yes, people still use these), held on to their rankings from 2016, but there are some noteworthy newcomers.
7 Steps to Secure Your Family's Internet Router – The router links most of your other devices together and to the world, and given its highly privileged position, it's a favorite target for hackers.
10 Habits of Highly Secure People – A little vigilance can go a long way. Here are some simple habits to incorporate into your life.
Register to download the Winter 2018 issue.