Do You Wanna Build A Snowman?
In A Good Snowman Is Hard To Build, you will help the monster create friends from snow. You will use your puzzle-solving skills in little areas of the town by rolling snowballs into the correct sizes and then assembling the snowmen.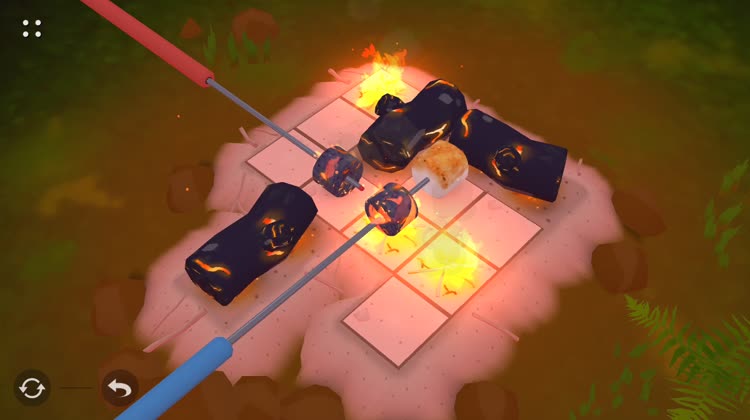 Start up the campfire, and get ready to think about roasting marshmallows.
Gather 'round the campfire and cook some tasty meals in this scrumptious puzzle game.
Weave your way through the challenging canvas-colored puzzles.
Strata is a game that will definitely test your puzzle-solving skills. You must weave the colored ribbons correctly to match the patterns on the grid. There are hundreds of puzzles, the ability to undo your moves, and calming music as you play.
When you like life-like roguelike puzzle games, take the Road Not Taken
Road Not Taken is a beautiful new roguelike puzzler from Spry Fox that is about forging relationships, choosing your own path, and finding your way in life.
A flat Rubik's Cube waiting to be flipped and flopped.
We got to preview the game at GDC in March, and now it's available for everyone. Get ready for an all new puzzle challenge that will test you to flip and flop the tiles to make one uniform grid. It's a bit like a flat Rubik's cube as you try to figure out the right order to flip specific patterns of tiles, so that everything comes together as one.
Counting sheep like never before.
A math based puzzle game all about getting the right number of sheep on the rafts. To do so, you will need to slice sheep in half with lasers, feed some sheep to wolves, drowned a few sheep, and other morbid activities to get the right numbers.
Don't let it blow up.
Oh no! There's a bomb in the house! How do you get rid of it? Push it out with everyday, household objects, of course. This is a unique and challenging new puzzle game that's sure to delight.
This puzzle game provides a mix of challenge and elegance.
In Loop:puzzler, just hold down on the anchor to rotate the orb and release when you reach your desired spot. This will also move Loop, so your goal is to guide the robot to the bright tesseract. The game offers 100 challenging puzzles, 14 achievements, and five Game Center leaderboards.
Glowish is a great addition to anyone's puzzle collection if you like games that make you think.
Glowish is a relaxing and challenging puzzle game about finding the right sequence of events to light up the shapes.