#31-40
Moving on up. The games keep getting better as we reveal the next ten in our reverse countdown to game of the year.
A 3D puzzle adventure with deluxe Sci-Fi storyline and mechanical puzzles.
You are the last survivor of Earth, and you need to figure out alien technology in an attempt to get back home. There's a cinematic style Sci-Fi storyline to play through by solving mechanical puzzles aboard the alien ship.
Reigns returns in an all new time period with all new swipe based choices.
The follow up to Reigns introduces a queen as the protagonist in the era of Enlightenment. Swipe left and right to handle the various attacks at your throne.
The makers of the Kingdom Rush trilogy have a brand new strategy game for you.
The Kingdom Rush series delivers what is quite possibly the best tower defense games. The developers have moved on to their next idea with Iron Marines, which is an all new real time strategy game. The goal is to guide your troops on strange planets through various missions with each one requiring different tactics.
Crescent Moon first showed this game to us at GDC in March, and now it's available for everyone.
Explore space and shoot your way through a captivating and immersive story in Morphite.
Nintendo has brought another of their big name franchises to iOS.
Nintendo's turn based RPG series Fire Emblem has come to iOS, and the version is truly made for touch. It's effortless to command your team of heroes to get into position for the best strategic approach to take out your enemies in a lengthy adventure.
A game inspired by The Room that delivers an all new storyline.
Play as Leonardo Da Vinci's apprentice, and try to solve the intricate puzzles he has left behind. The game is heavily inspired by The Room to give you tactile 3D puzzles to solve with detailed and interconnected mechanics in play.
The classic inspired platformer returns with a sequel of its own.
Super Phantom Cat 2 is here and delivers classic platformer fun with a ton of fun felines.
A block sliding puzzle game transformed into an adventure.
Swipe the screen to slide Red across the castle grounds, through dungeons, and more in this new adventure game. It's an interesting genre mash-up that offers a simple mechanic to let you focus on the neat world to interact with.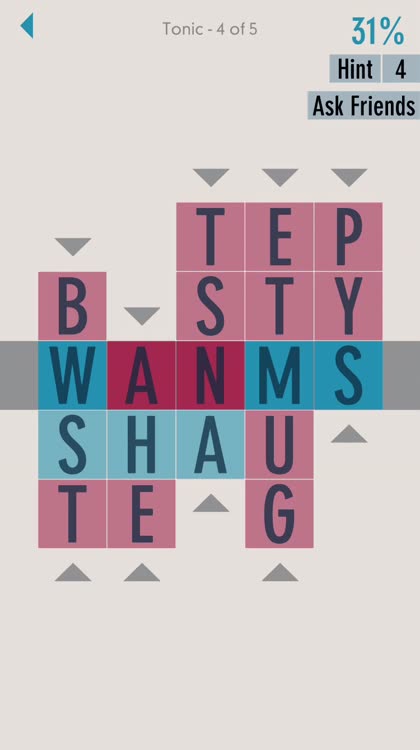 Rearrange columned letters to discover words to crossword style clues.
A brand new word game style from the maker of SpellTower. You need to shift columns into place to try to form words from the grid of letters. There are two ways to play with a word finder as well as a crossword puzzle style solver.
#41-50
The top 50 begins with the unveiling of numbers 41 to 50 on the list. When you see some great games this far down the list, you can't help but be excited for what's to come.