Machine-to-machine, or M2M, is a broad label that can be used to describe any technology that enables networked devices to exchange information and perform actions without the manual assistance of humans.
M2M technology was first adopted in manufacturing and industrial settings, and later found applications in healthcare, business, insurance and more. It is also the foundation for the internet of things (IoT).
History of machine-to-machine technology
The roots of M2M are planted firmly in the manufacturing industry, where other technologies, such as SCADA and remote monitoring, helped remotely manage and control data from equipment.
While the origins of the acronym are unverified, the first use of machine-to-machine communication is often credited to Theodore Paraskevakos, who invented and patented technology related to the transmission of data over telephone lines, the basis for modern-day caller ID.
Nokia was one of the first companies to use the acronym in the late 1990s. In 2002, it partnered with Opto 22 to offer M2M wireless communication services to its customers.
In 2003, M2M Magazine launched. The publication has since defined the six pillars of M2M as remote monitoring, RFID, sensor networking, smart services, telematics and telemetry.
How M2M works
The main purpose of machine-to-machine technology is to tap into sensor data and transmit it to a network. Unlike SCADA or other remote monitoring tools, M2M systems often use public networks and access methods — for example, cellular or Ethernet — to make it more cost-effective.
The main components of an M2M system include sensors, RFID, a Wi-Fi or cellular communications link, and autonomic computing software programmed to help a network device interpret data and make decisions. These M2M applications translate the data, which can trigger preprogrammed, automated actions.
One of the most well-known types of machine-to-machine communication is telemetry, which has been used since the early part of the last century to transmit operational data. Pioneers in telemetrics first used telephone lines, and later, radio waves, to transmit performance measurements gathered from monitoring instruments in remote locations.
The internet and improved standards for wireless technology have expanded the role of telemetry from pure science, engineering and manufacturing to everyday use in products such as heating units, electric meters and internet-connected devices, such as appliances.
Beyond being able to remotely monitor equipment and systems, the top benefits of M2M include:
reduced costs by minimizing equipment maintenance and downtime;
boosted revenue by revealing new business opportunities for servicing products in the field; and
improved customer service by proactively monitoring and servicing equipment before it fails or only when it is needed.
M2M applications
Machine-to-machine communication is often used for remote monitoring. In product restocking, for example, a vending machine can message the distributor's network, or machine, when a particular item is running low to send a refill. An enabler of asset tracking and monitoring, M2M is vital in warehouse management and supply chain management.
Utilities companies often rely on M2M devices and applications to not only harvest energy, such as oil and gas, but also to bill customers — through the use of smart meters — and to detect worksite factors, such as pressure, temperature, equipment status and more.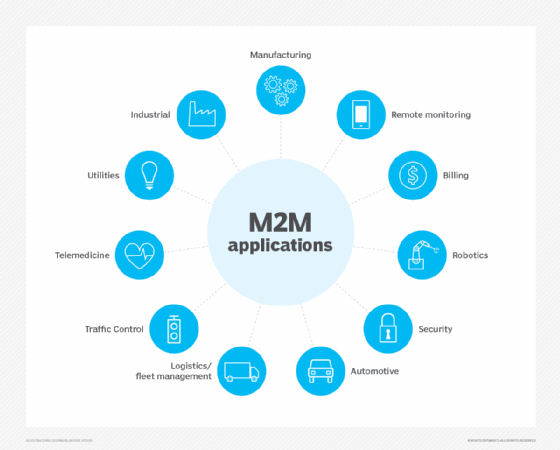 In telemedicine, M2M devices can enable the real-time monitoring of patients' vital statistics, dispensing medicine when required, or tracking healthcare assets.
M2M is also an important aspect of remote control, robotics, traffic control, security, logistics and fleet management, and automotive.
M2M vs. IoT
While many use the terms interchangeably, M2M and IoT are not the same. IoT needs M2M, but M2M does not need IoT.
Both terms relate to the communication of connected devices, but M2M systems are often isolated, stand-alone networked equipment. IoT systems take M2M to the next level, bringing together disparate systems into one large, connected ecosystem.
M2M systems use point-to-point communications between machines, sensors and hardware over cellular or wired networks, while IoT systems rely on IP-based networks to send data collected from IoT-connected devices to gateways, the cloud or middleware platforms.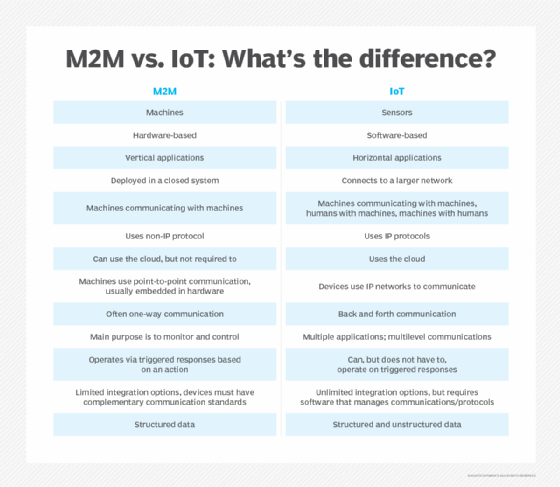 Data collected from M2M devices is used by service management applications, whereas IoT data is often integrated with enterprise systems to improve business performance across multiple groups. Another way to look at it is that M2M affects how businesses operate, while IoT does this and affects end users.
For example, in the product restocking example above, M2M involves the vending machine communicating to the distributor's machines that a refill is needed. Incorporate IoT and an additional layer of analytics is performed; the vending machine can predict when particular products will need refilling based on purchase behaviors, offering users a more personalized experience.
M2M security
Machine-to-machine systems face a number of security issues, from unauthorized access to wireless intrusion to device hacking. Physical security, privacy, fraud and the exposure of mission-critical applications must also be considered.
Typical M2M security measures include making devices and machines tamper-resistant, embedding security into the machines, ensuring communication security through encryption and securing back-end servers, among others. Segmenting M2M devices onto their own network and managing device identity, data confidentiality and device availability can also help combat M2M security risks.
M2M standards
Machine-to-machine technology does not have a standardized device platform, and many M2M systems are built to be task- or device-specific. Several key M2M standards, many of which are also used in IoT settings, have emerged over the years, including:
OMA DM (Open Mobile Alliance Device Management), a device management protocol
OMA LightweightM2M, a device management protocol
MQTT, a messaging protocol
TR-069 (Technical Report 069), an application layer protocol
HyperCat, a data discovery protocol
OneM2M, a communications protocol
Google Thread, a wireless mesh protocol
AllJoyn, an open source software framework


Source link https://internetofthingsagenda.techtarget.com/definition/machine-to-machine-M2M